WHAT IS VITAMIN E?
Vitamin E is a fat-soluble vitamin that plays an important function in preventing oxidative damage to cells and acting as an antioxidant. Alpha-tocopherol is the most physiologically active version of a collection of chemicals that make up this substance. A strong immune system, healthy skin, and eyes all depends on vitamin E. Additionally, it is essential for shielding genetic material and cell membranes from free radicals, highly reactive chemicals that can damage cells and be a factor in a number of chronic disorders. Although vitamin E can be found in many foods, including nuts, seeds, and vegetable oils, it can also be used as supplements or as part of a balanced diet to support general health and wellbeing.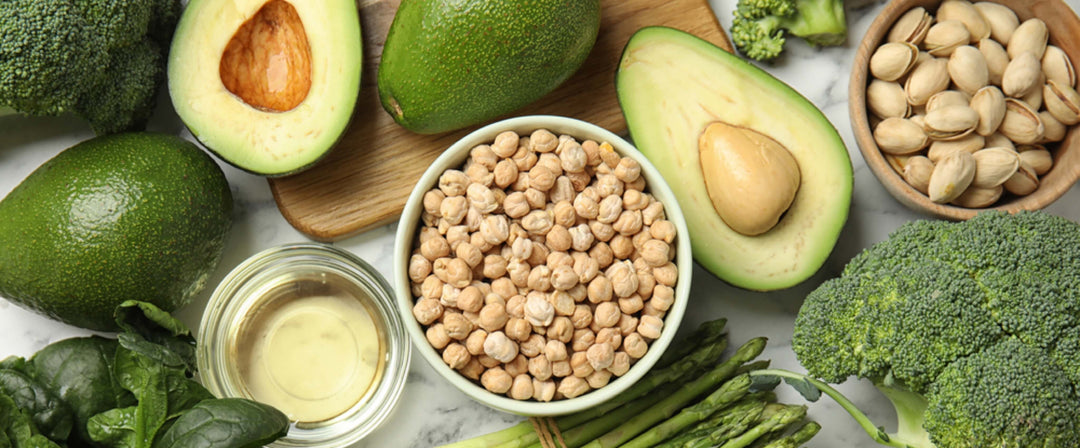 WHAT ARE THE BENEFITS OF VITAMIN E?
The health benefits of vitamin E, a fat-soluble antioxidant component, go far beyond its function as a cell defender. Vitamin E is essential for promoting general health, from improving skin health to supporting immunological function.
Powerhouse Antioxidant: Vitamin E's outstanding antioxidant properties are the foundation of all of its health advantages. It protects cells from oxidative stress and the damage brought on by these highly reactive molecules by acting as a powerful free radical scavenger. Vitamin E helps to lower the risk of chronic diseases like cancer, heart disease, and neurological problems by protecting cellular integrity.

May help reduce heart disease factors: According to research, taking vitamin E supplements may help lower heart disease risk factors. Vitamin E supplementation significantly lowered systolic blood pressure, which is the highest number in blood pressure readings, according to a 2019 assessment of 18 studies. Combining vitamin E with omega-3 supplements may also help people with metabolic syndrome, a condition associated to an increased risk of heart disease, lower their levels of LDL (bad) cholesterol and triglycerides.
May Help Manage Dysmenorrhea: Vitamin E supplements may help women with dysmenorrhea manage their symptoms of menstrual pain, according to research. A 2018 study including 100 women discovered that taking 200 IU of vitamin E daily decreased menstrual pain, and that taking omega-3 supplements also had an even greater impact. A 2021 study also shown that endometriosis-affected women who took vitamin E and vitamin C supplements experienced less severe dysmenorrhea and pelvic pain. Before taking vitamin E supplementation for menstruation discomfort, it is advised to speak with a healthcare provider.
Incorporating vitamin E into your diet and skincare routine can provide a plethora of health benefits, improving your overall well-being. However, it's crucial to use vitamin E supplements carefully because too much of it might have negative consequences. Always seek the advice of a healthcare practitioner to ascertain your individual dietary requirements and the most efficient means of obtaining the advantages of vitamin E.
HOW DOES VITAMIN E WORK IN HUMAN BODY?
Vitamin E dissolves in dietary lipids and is absorbed in the small intestine as it is a fat-soluble antioxidant. Once ingested, it travels through the bloodstream to different tissues and organs where it acts as a strong antioxidant defence against oxidative stress. Free radicals are very reactive chemicals that can damage cells and have a role in several chronic diseases, including cancer and heart disease. Vitamin E's main job is to neutralise these molecules. Vitamin E assists in maintaining cellular integrity in this way, which may lower the chance of developing certain diseases.
In addition, vitamin E is essential for boosting skin health, supporting the immune system, and promoting general wellbeing. It supports the body's immune system, strengthens its resistance to infections, and may even benefit heart health by enhancing blood vessel function and lowering inflammation. Vitamin E is essential for maintaining skin health in addition to being a powerful antioxidant, whether applied topically or taken orally. Its importance in skincare regimens is highlighted by its capacity to alleviate dryness, lessen ageing symptoms, and treat skin disorders. Essentially, vitamin E helps to maintain general health and vitality by protecting cells, boosting immunity, and supporting skin health during its journey through the body.
HOW MUCH VITAMIN E CAN A PERSON TAKE?
The Recommended Dietary Allowance (RDA), also known as the vitamin E recommendation, ensures adequate nourishment for different life stages. Natural vitamin E (RRR-alpha-tocopherol) RDA for adults is 15 mg (22 IU). It doesn't change throughout pregnancy and stays at 15 mg (22 IU), however it slightly rises to 19 mg (28 IU) while lactation.
It's crucial to remember that there are various types of vitamin E, including synthetic vitamin E (all-rac-alpha-tocopherol) and natural vitamin E (RRR-alpha-tocopherol), which have different dosage calculations. When thinking about supplemental nutrition, this variation may cause misunderstanding. The American Heart Association advises getting vitamin E mostly through a healthy, balanced diet as opposed to supplementation. This strategy is preferred until additional study clarifies the potential hazards and advantages of vitamin E supplementation. The best method to achieve your vitamin E requirements is to maintain a varied and wholesome diet that includes foods high in vitamin E, such as vegetable oils, cereals, meat, poultry, eggs, fruits, and wheat germ oil.
WHAT ARE THE VARIATIONS OF VITAMIN E?
Vitamin E is also available as:
Vitamin E Mixed Natural Tocopherol Oil 95% Non-GMO
Vitamin E Mixed Natural Tocopherol Powder (20% Gamma Tocopherol) Non-GMO
Vitamin E Mixed Natural Tocopherol Powder 30% Non-GMO
Vitamin E Mixed Natural Tocotrienols/Tocopherols Powder 30% Non-GMO
Vitamin E Natural (D-Alpha-Tocopheryl Succinate 1210 I.U. /g) Powder Non-GMO
Vitamin E Natural (D-Alpha-Tocopheryl Acetate 51.5%/ 700 I.U. / g) Powder CWD Water Dispersible Non-GMO
Vitamin E Natural (D-Alpha-Tocopheryl Acetate) Oil Non-GMO
Vitamin E Natural TGPS (D-Alpha-Tocopheryl Polyethylene Glycol Succinate) Powder Soluble Non-GMO
Vitamin E Synthetic (DL-Alpha-Tocopheryl Acetate 100%) Oil
Vitamin E Synthetic (DL-Alpha-Tocopheryl Acetate 50% / 500 I.U. / g) Powder CWS Water Soluble
Vitamin E Synthetic (DL-Alpha-Tocopheryl Acetate 50% / 500 I.U. / g) Powder Granular SF
Vitamin E is commonly available in:
Vitamin E tablets
Vitamin E capsules
Vitamin E powder
Vitamin E soft gels
Glentworth Formulations is here to suit your every need. Everything from Tablets, Capsules and Powder blends.
If you are wanting to know more information, please get in contact with us. Either using the contact form or contacting us directly on: enquiries@glentworthformulations.com.